Argentine captain Lionel Messi has been banned for four international matches after the forward insulted an assistant referee in a World Cup qualifying game against Chile last week.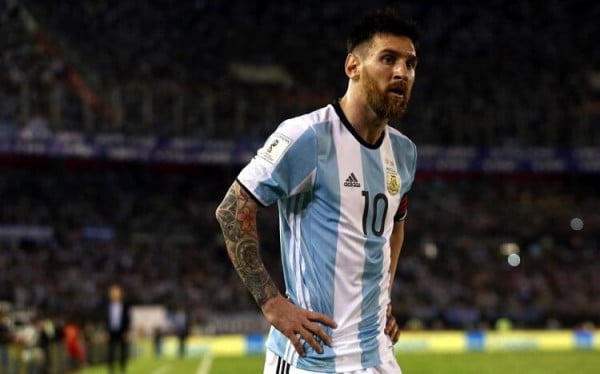 Messi was also handed a fine of 10,000 Swiss francs by FIFA's disciplinary panel after the Barcelona star was adjudged guilty of "having directed insulting words at an assistant referee" in Albiceleste's1-0 win in Buenos Aires. Messi scored the only goal from a first-half penalty.
Television pictures showed Messi reacting angrily late in the game when assistant referee Emerson Carvalho flagged him for fouling an opponent. He waved his arms and shouted profane insults at the assistant. After the game, Messi refused to shake hands with Carvalho.
The five-time FIFA World Player of the year winner will miss Argentina's World Cup qualifier against Bolivia on Tuesday, and other qualifying games against Uruguay, Venezuela and Peru.
He can return for Argentina's final qualifier, away to Ecuador on Oct. 10. Meaning Argentina will be without their captain for four of their final five World Cup qualifiers.
However, Messi and the Argentina federation can appeal against the ban.
A Fifa statement read: "The Fifa Disciplinary Committee – in application of articles 77 a) and 108 of the Fifa Disciplinary Code (FDC) – has reached a decision in relation to the case of Lionel Messi following an incident that occurred during the match between Argentina and Chile on 23 March 2017 as part of the qualifying competition for the 2018 Fifa World Cup Russia.
"Lionel Messi has been found guilty of violating art. 57 of the FDC for having directed insulting words at an assistant referee.
"As a result, Messi will be suspended for four official matches and sanctioned with a fine of CHF 10,000. The first match for which the sanction will apply is the next fixture in the preliminary competition of the 2018 Fifa World Cup Russia between Bolivia and Argentina, which will be played today, 28 March. The remainder of the sanction will be served over Argentina's subsequent Fifa World Cup qualifying matches.
"This decision is in line with the Fifa Disciplinary Committee's previous rulings in similar cases."
Argentina are third in CONMEBOL qualifying, with the top four automatically qualifying to play in Russia, while the fifth-placed team advances to a playoff.